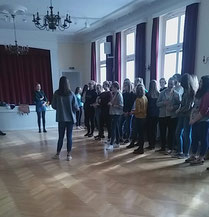 On Thursday the wait will finally be over and our EYP 2018 will start but beforehand of course everything has to be organized and prepared.
That´s why the parlamentarians were divided into several groups which are responsible for the program on Saturday evening, the guided tour through Eutin and our school and the preparation of the appartement for the "Chairs". Also the catering team and the press are working busy on their projects. 
Tomorrow we already expect the arrival of the Romanian and the Italian delegates and we are looking forward to the Danes and three Danish "Chairs" on Thursday.